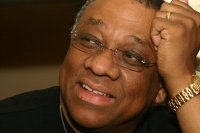 Pastor Hunt will be blogging on a variety of subjects in 2010. This blog begins with our "Book of the Month" discussion series. The book being reviewed is "The Shack" by William P. Young. Pastor Hunt will share a question or thought and all you need to do is reflect and respond. Let's see what we can learn as we discuss this book which wrestles with the timeless question, "Where is God in a world so filled with unspeakable pain?" The answer provided within the pages of this fictional story may astound you and perhaps transform you.
by Rev. James E. Hunt | March 16, 2010
On the cover jacket of this book was the following compelling question; "Can you imagine your life without fear?" Hmmm....I bought the book. Max Lucado writes,"Imagine your life,wholly untouched by angst. What if faith,not fear,was your default reaction to threats...